ACADEMIC PENTATHLON 2018
Congratulations to the following 8th grade Mariners who competed and won the following medals in the 2018 Orange County Academic Pentathlon.
Varsity
Arian Salehzadeh - 4th place, Language Arts & Literature
Sage Sentongo - 4th place, History
Scholastic
Brandon Kuromoto
Ananya Sampat - 4th place, Science - 3rd place, Fine Arts - 2nd place, History - 1st place, Math - 3rd place Individual Overall
Lauren Tsai - 4th place, History - 3rd place, Math
Honors
Tyler Kim - 4th place, History - 2nd place, Fine Arts - 2nd place, Math - 4th place, Individual Overall
Iris Shen - 2nd place, Science - 1st place, Fine Arts - 1st place, History
Colin Sueyoshi - 3rd place, History - 2nd place, Language Arts & Literature - 2nd place, Science - 1st place, Math - 2nd place Individual Overall
Alternate - Nat Cannon
Our amazing team 3rd place in Super Quiz and 3rd place Overall!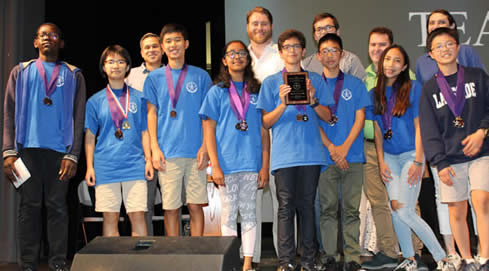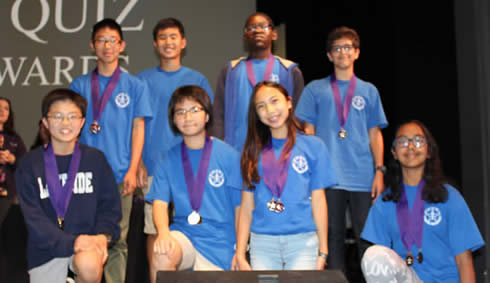 Congratulations to the following 8th grade Mariners who competed and won the following medals in the 2018 Orange County Academic Pentathlon.
AMC MATH
ASTOUNDING INVENTIONS
Astounding Inventions 2017
Thanks to the following students who participated in the Astounding Inventions competition on Saturday, January 28, at Irvine Valley College:
Allyson Garcia, Leisa Komoyo, Monica Pal, York Tang
Congratulations on Their Acheivement!
| | |
| --- | --- |
| Monica Pal | 1st Place Division Winner |
| York Tang | 1st Place Division Winner |
| Allyson Garcia | 2nd Place |
| Leisa Komoyo | 2nd Place |
| | | |
| --- | --- | --- |
| | | |
| York Tang - 1st place Division Winner | The Competition @IVC | Leisa Komoyo - 2nd Place |
ATHLETICS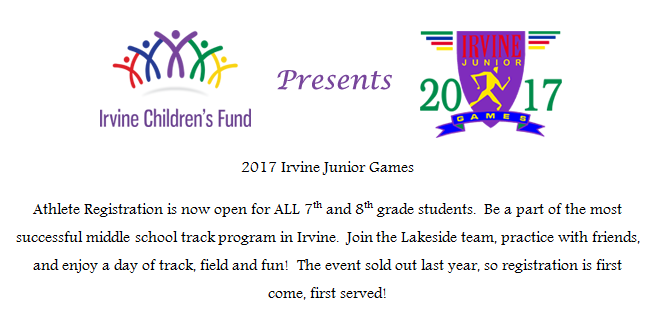 Register online at www.irvinejuniorgames.com
Please see Coach Singhi or Coach Glasgow for more information.
BOOK CLUB
Lakeside Middle School Book Club 2018-2019
Reading Challenge 
The new school year is upon us!  You have officially been challenged to read 9 books during the 2018-2019 school year.  Your challenge, if you chose to accept it, is to choose books from a list of various types of books.  Use this list to explore new authors, genres and topics.  Perhaps the list will bring you to discover a new passion or finally get around to a book you've always wanted to read.
How to Participate in Book Club
Each month you will red one book that fits the challenge on the list for the monthly meeting.
To complete a monthly challenge:
- Find a book that fits the criteria for the month's challenge.
- Read the book.
- Take A.R. Quiz.
- Print out the A.R. Quiz report (or show result) .
- Get monthly challenge item marked off with signature (the student challenge form).
- Attend the monthly book club meeting.
One book for each challenge item.  Books cannot count for multiple challenges.
Join us for our monthly book club meeting (where we will discuss the books from the challenge item and talk about next month's challenge items and possible books).
Must read the book, take the A.R. quiz, and attend monthly meetings for extra credit. 
Monthly Book club Meetings Scheduled during Tutorial:
- October 4th - informational meeting for everyone!
- October 30th - "Book made into a movie"
- November 27th - "Book about someone with a physical or learning challenge"
- December 20th - "4 Graphic Novels"
- January 29th - "Book written before you were born"
- February 26th - "Book by or about a person of color"
- March 26th - "Book that is dystopian"
- April 30th - "Book that is a Newbery Award Winner/Honor"
- May 28th - "Book set during wartime"
Book Club Meetings will be held in room 220 during tutorial and into lunch. 
Reading Challenge Student Monthly Challenge Items Form
How Can I Get a Copy Of The Books?
Limited copies of the books are available in the library for one-week check-out. We want to give as many students possible the opportunity to read the books. Be sure to get your copy early, and to take some notes. If it takes you longer than one week, you may want to purchase the book through the library (see Mr. Fatzaun) or a neighborhood bookseller or even better visit the Orange County Public Library (Heritage Park Library / University Park Library), it is FREE!!!!!!!! Also, visit IUSD Overdrive eBook collection.
Do not wait to the last second to read the books and take the AR test and get your tickets to attend Book Club.
How Do I Become a Book Club Leader or If You Have Any Questions About Book Club?
You can find Mr. Fatzaun in the Library Media Center or Mr. Singhi in room 220.
COLLEGE & CAREER EXPLORATION 2018-2019
Welcome to ACEs! Here you will find all the handouts needed to complete your ACEs. Please print out the ACEs handout (choose correct handout for your grade level). Once you do that, you can decide which activities you would like to complete. Be sure to complete activities only for your grade level! Copies are also available in the Media Center. See Mrs. Barro or Mrs. Villalobos if you have any questions!
12 Tips for Getting Into College
GREEN TEAM 2018
Green Team is a club led by students that meets regularly to promote environmental awareness in the community and on campus. Green Team built and maintains a school garden, which was expanded with the help of IUSD's own maintenance crew and the Middle School Program, hosted by the city! Additional projects include increasing recycling effort on campus and gathering compostable waste to nourish our garden. See how we've grown!
HOLOCAUST ART & WRITING
Congratulations to Lakeside's site winners who advanced to the final competition at Chapman University!
Deborah Lee - Art
Michael Jiang - Art
Iris Shen - Poetry
Lakeside's 2018 Holocaust Art & Writing participants at the Chapman University Awards Ceremony
JAZZ BAND
Lakeside Afterschool Jazz Band
The Lakeside Jazz Band meets in the Performing Arts building from 3:10 – 4:00 nearly every Tuesday and Thursday. The schedule below reflects a typical trimester. Students in the jazz band perform during our band concerts, for our incoming 6th grade students and in whatever other gig Mr. Robinson can envision. It's a great way for students to be involved with music and with the school.
MATH COUNTS
Math Counts 2017
The following students competed at the California reagional Mathcounts Competition on February 25th, 2017 at UCI. Congratulations to the following hard-working students who represented Lakeside Middle School in this rigorous and exciting event. Great job, Mathematic Mariners!!
Thomas Debeusscher
David Kim
Minseo Kim
Tyler Kim
Jake Morgan
Rithvij Ponchempally
Iris Shen
York Tang
Kyle Verhagen
Jason Wang
Katrina Watson
Alex Yan
Mandy Yang
NATIONAL HISTORY DAY
History Day 2017/2018
Orange County History Day Competition - Saturday, March 10th, 2018, at Orange County Department of Education in Costa Mesa
Congratuations to our school champions who competed at the Orange County competition:
Somer Alrai, Andrew An, Kyeongjae Hwang, Toni John, Katie Kim, Chris Lee, Deborah Lee, Inaya Nayez, Anish Patel, Sarina Rai, Sophia Stewart, York Tang,  and Elena Wu
Special congratulations to Orange County Special Judges Award winners:
Ethan Ho, Albert Hoang, Hayden Kim, Brandon Pham, and Josh Varela
And finally, our Orange County Champions who will compete on May 5 and May 6, 2018, in Sacramento:
Thomas Hwang and Jason Ie for their Group Documentary and Colin Sueyoshi for his Individual Documentary
Colin Sueyoshi, Jason Ie, Thomas Hwang
NATIONAL JUNIOR HONOR SOCIETY
Membership in Lakeside's National Junior Honor Society is a special privilege for students who earn high academic marks, and have a desire to give back to the community. Students who earn a 4.0 for one trimester and all Os and Ss can join the group and participate. The group meets throughout the year to participate in school-wide and community-based projects. Past projects include the following:
Scrapbooking for senior citizens
Food drives for local food banks
Relay For Life
Toy drives for children with cancer
Animal shelter blanket-making
Leadership trainings
| | |
| --- | --- |
| | |
| | |
SCIENCE FAIR
Science Fair 2018
Kudos to the following Lakeside students who competed in the District Science Fair competition on February 27, 2018
Congratulations to the following outstanding students !
Anish Patel
1st Place
Effect of Electromagnetic Radiation on the Binary Fission of Common Bacteria
Diyya Ganju Kieli Murray
1st Place
Men are from Mars & Women are from Venus

Liam Goodemote
Ethan Ho

1st Place
How Do Different Programming Languages Affect How Much Energy is Used?

Maya Ueoku
Sophia Venegas

2nd Place
Does the Brand of a Food Affect Consumer Taste?
Monica Pal
2nd Place
How Does the Quantity of Salt in Water Affect its Conductivity?
Iris Shen
2nd Place
Does the Bow Tension Affect the Volume of Sound Produced on a Violin?
Sarina Rai
Honorable Mention
Which Surface on a School Campus has the Most Bacterial Contamination?
Surendra Jammishetti

David Culciar
Honorable Mention
Is Algae Cost-Effective to Produce Biofuel With or Without Fertilizer?
Sriya Adunur
Honorable Mention
Does an iPad Increase Speed in Cognitive Abilities for Autistic Middle School Students?
Ashley Chu

Tamami Miyazaki
Honorable Mention
How Does Acid Rain Affect Growth of Wisconsin Fast Plants?
Jeffrey Meredith
Honorable Mention
The Running Jump Shot
Inaya Nayaz
Honorable Mention
Saliva Testing: Testing Acidic Value
Arisha Anand
Honorable Mention
How does Blade Lenght Affect the Amount of Electrical Energy Produced by a Wind Turbine?
SPELLING BEE 2018
The purpose of the Spelling Bee Club is to prepare students for the school-wide bee that will take place on Thursday, January 17th at 6:00pm in the PA.  The Spelling Bee Club meets on Tuesdays during Tutorial in Mrs. Granado's room 204 and Mrs. Albert's room 214 from October 30, 2018 until January, 8 2019.  Be sure to check the Tutorial schedule to see what classroom you will meet in for the club meeting each week.  If you miss one week's Tutorial, be sure to attend the next week's Tutorial to catch up.  It is expected that all Spelling Bee Club students will participate in teh annual Spelling Bee.
For More Information Spelling Bee Club Flyer 
Toshiba Exploration